Drs. Eric and Michael Adler, who are brothers, maintain the highest levels of accreditation and pursue ongoing education to stay abreast of the most current advances in dentistry.
Dentist - Aberdeen
301 Church St.
Aberdeen, NJ 07747
Find us
Find helpful information in our digital library.
Posts for tag: oral hygiene
By Adler Family Dental
May 31, 2013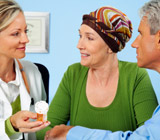 You're probably aware of some of the adverse side effects of treatment for cancer. Unfortunately, one of these side effects is the health of your mouth. In fact, more than one third of people treated for cancer develop oral side effects.
Cancer treatments, such as chemotherapy and radiation, attack cancer cells, but normal cells are also affected. Chemotherapy can affect the lining tissues of the mouth and the salivary glands, and radiation treatment can affect all tissues in its path, which will put you at higher risk for dental diseases, such as tooth decay and gum disease. You may also develop painful mouth sores as well as dry mouth.
The best approach to take when it comes to protecting yourself from these potential side effects is prevention. Here are a few steps you can take to defend yourself:
Get a Comprehensive Dental Examination. While in the planning stages for your cancer treatment, you should schedule an appointment with our office for a complete dental exam. We will ensure that you oral health is optimal before you undergo treatment. We will also provide detailed instructions on how to care for your teeth during treatment and how to recognize the problem signs. Some solutions we may recommend are a fluoride treatment or antibacterial rinse.
Keep up with your Oral Hygiene Routine. While cancer treatment may cause you to feel fatigued, it will be more important than ever for you to take good care of your teeth. Remember to brush twice daily with a soft brush and fluoride toothpaste. You should also floss once a day to clean between your teeth.
Keep your Mouth Moist. Dry mouth is a common side effect of radiation and chemotherapy, and along with dry mouth comes a higher risk for tooth decay. We may recommend salivary stimulating medications to fight against this condition. You should also avoid mouth rinses with alcohol, which tend to further dry out your mouth. Make sure to drink plenty of water and consider chewing gum with xylitol, which promotes salivation and actively prevents tooth decay.
Remain Alert. Throughout treatment, you should continue to look for signs of oral discomfort in the teeth, jaws and lining of your mouth. Notify both your oncologist and our office if you experience any side effects involving your mouth.
If you would like more information about oral health and cancer treatment, please contact us or schedule an appointment for a consultation. You can also learn more by reading the Dear Doctor magazine article "Oral Health During Cancer Treatment."
By Adler Family Dental
May 15, 2013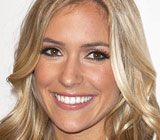 While she was pregnant with her son Camden Jack Cutler, 25-year-old Kristin Cavallari noticed an odd occurrence in her bathroom sink: "Every time I floss, my sink looks like I murdered somebody!" the actress and reality-TV personality exclaimed. Should we be concerned that something wicked is going on with the star of Laguna Beach and The Hills?
Before you call in the authorities, ask a periodontist: He or she will tell you that there's actually no mystery here. What Cavallari noticed is, in fact, a fairly common symptom of "pregnancy gingivitis," a condition that affects many expectant moms in the second to eighth month of pregnancy. But why does it occur at this time?
First — just the facts: You may already know that gingivitis is the medical name for an early stage of gum disease. Its symptoms may include bad breath, bleeding gums, and soreness, redness, or tenderness of the gum tissue. Fundamentally, gum disease is caused by the buildup of harmful bacteria, or plaque, on the teeth at the gum line — but it's important to remember that, while hundreds of types of bacteria live in the mouth, only a few are harmful. A change in the environment inside the mouth — like inadequate oral hygiene, to use one example — can cause the harmful types to flourish.
But in this case, the culprit isn't necessarily poor hygiene — instead, blame it on the natural hormonal changes that take place in expectant moms. As levels of some female hormones (estrogen and/or progesterone) rise during pregnancy, changes occur in the blood vessels in the gums, which cause them to be more susceptible to the effects of bacterial toxins. The bacteria produce toxic chemicals, which in turn bring on the symptoms of gingivitis — including painful and inflamed gums that may bleed heavily when flossed.
Is pregnancy gingivits a cause for concern? Perhaps — but the condition is generally quite treatable. If you've noticed symptoms like Kristen's, the first thing you should do it consult our office. We can advise you on a variety of treatments designed to relieve the inflammation in your gums and prevent the harmful bacteria from proliferating. Of course, your oral health (and your overall health) are prime concerns during pregnancy — so don't hesitate to seek medical help if it's needed!
How did things work out with Kristen? She maintained an effective oral hygiene routine, delivered a healthy baby — and recently appeared on the cover of Dear Doctor magazine, as the winner of the "Best Celebrity Smile" contest for 2012. And looking at her smile, it's no mystery why she won.
If you would like more information about pregnancy gingivitis, please contact us or schedule an appointment for a consultation. You can also learn more by reading the Dear Doctor magazine articles "Expectant Mothers" and "Kristen Cavallari."