Drs. Eric and Michael Adler, who are brothers, maintain the highest levels of accreditation and pursue ongoing education to stay abreast of the most current advances in dentistry.
Dentist - Aberdeen
301 Church St.
Aberdeen, NJ 07747
Find us
Find helpful information in our digital library.
Posts for: December, 2013
By Adler Family Dental
December 24, 2013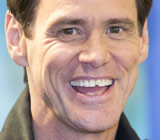 Fans of the classic bumbling-buddies comic film "Dumb and Dumber" will surely remember the chipped front tooth that Jim Carrey sported as simpleminded former limo driver Lloyd Christmas. Carrey reportedly came up with the idea for this look when considering ways to make his character appear more "deranged." He didn't need help from the make-up department, however… He simply had his dentist remove the dental bonding material on his left front tooth to reveal the chip he sustained in grade school!
Creating a Bond
A dental cosmetic bonding involves application of a composite filling material that our office can color and shape to match the original tooth. Bonding material can be used to replace the lost portion of tooth or to seamlessly reattach the lost portion if it has been preserved and is otherwise undamaged. Little to no removal of existing tooth surface is needed. This is the quickest and lowest-cost option to repair a chip.
Alternatives
When a relatively large portion of the tooth is missing, a crown is often the better choice. It fully encases the visible portion of the remaining tooth above the gum line and is shaped and sized to match the original. It can be made of tooth-colored porcelain fused to metal crowns or all-ceramic (optimal for highly visible areas). A small amount of the existing tooth surface will be removed to allow the crown to fit over it.
A veneer can be used to hide smaller areas of missing tooth. This is a thin, custom-made shell placed on the front of the tooth to give it a new "face." Some removal of existing tooth surface also may be necessary to fit a veneer.
A chipped tooth makes an impression, but generally not a flattering one. Nearly 20 years after "Dumb and Dumber" hit the theaters, the only thing Jim Carrey had to do recently to hint at a sequel for his nitwitted character was tweet a photo of that goofy grin!
If you would like more information about repairing a chipped tooth, please contact us or schedule an appointment for a consultation. You can also learn more about this topic by reading the Dear Doctor magazine article "Artistic Repair of Front Teeth With Composite Resin."
By Adler Family Dental
December 10, 2013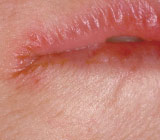 You may be suffering from an uncomfortable cracking of the skin at the corners of the mouth. This condition is known as perleche (or angular cheilitis). From the French word "lecher" ("to lick"), it derives its name from the tendency of sufferers to lick the affected areas.
There are a number of causes for perleche. It's found most often in children who drool during sleep, or in teenagers or young adults wearing braces. Older adults develop perleche due to the wrinkling of skin caused by aging; and anyone can develop the condition from environmental factors like cold, dry weather. Conditions from within the mouth may also be a cause: inadequate saliva flow; inflammation caused by dentures; or tooth loss that diminishes facial support and puts pressure on the skin at the corners of the mouth. Systemic conditions such as anemia, diabetes or cancer can dry out oral tissues and membranes, which may lead to perleche.
Our first priority is to treat any underlying infection. Cracked mouth corners are easily infected, most commonly from yeast called candida albicans. The infection may range from minor discomfort localized in the affected area to painful infections that involve the entire mouth and possibly the throat. Any of these can be treated with an oral or topical anti-fungal medication, including anti-fungal ointments applied directly to the corners of the mouth until the infection clears up. Chlorhexidine mouth rinses can also be used to treat minor yeast infections.
As for healing the cracked skin, a steroid ointment for control of inflammation combined with a zinc oxide paste or ointment will serve as an antifungal barrier while the tissues heal. If the condition is related to missing teeth or dentures, we can take steps to replace those teeth or ensure the dentures are fitting properly. Good oral health also goes a long way in preventing further reoccurrence of perleche, as well as dermatological techniques to remove deep wrinkles due to aging.
If you would like more information on perleche and other mouth sore issues, please contact us or schedule an appointment for a consultation. You can also learn more about this topic by reading the Dear Doctor magazine article "Cracked Corners of the Mouth."