Drs. Eric and Michael Adler, who are brothers, maintain the highest levels of accreditation and pursue ongoing education to stay abreast of the most current advances in dentistry.
Dentist - Aberdeen
301 Church St.
Aberdeen, NJ 07747
Find us
Find helpful information in our digital library.
Posts for: November, 2013
By Adler Family Dental
November 25, 2013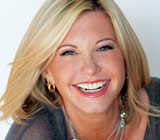 Olivia Newton-John, now in her early 60's, is still a fresh-faced picture of health — with a radiant smile to match. How does she do it? She does it with healthy habits learned from her German-born mother, Irene.
"I love greens, and as many organic vegetables as possible," Olivia recently told Dear Doctor magazine. "From spinach to salads to beets — pretty much any and all greens!"
Olivia credits her mom with instilling her lifelong love of healthy foods. Irene used dark bread rather than white bread for sandwiches and even made her own yogurt — which she used as a topping on baked fruit for dessert.
"Growing up, my mum really taught us some great eating habits," Olivia told the magazine. "When I was a girl in school, all of my friends would have cakes and cookies and fun foods but my mum was all about teaching us to eat healthy foods and to be very aware of what we were putting into our bodies. At the time I was annoyed about it, but looking back now I thank her for teaching me at an early age to eat healthily."
Irene paid particular attention to her children's oral health. "My mum always made us brush and floss after every meal so, once again, like the foods we ate, she taught us early about the importance of great dental hygiene," said Olivia, who has an older brother and sister.
As a mom herself, Olivia passed those healthy habits down to her daughter, Chloe.
"I always insisted on regular dental checkups and limited sugar, especially in soft drinks — they were never in our fridge," she said.
Parents do play an important role in developing healthy oral habits from the very beginning, starting with proper tooth-brushing techniques. By age 2, a brushing routine should be established using a smear of fluoride toothpaste. For older toddlers, parents can use a child's size soft toothbrush with water and a pea-sized amount of fluoride toothpaste. Children need help brushing until at least age 6, when they can generally take over brushing by themselves and also learn to floss.
The point of a good daily oral hygiene routine is to remove the film of bacteria that collects daily along the gum line, and in the nooks and crannies of teeth. Effective daily removal of this biofilm will do more to prevent tooth decay and promote lifelong dental health than anything else.
If you would like to learn more about preventing tooth decay or teaching your child to brush and floss correctly, please contact us or schedule an appointment for a consultation. If you would like to read Dear Doctor's entire interview with Olivia Newton-John, please see "Olivia Newton-John." Dear Doctor also has more on "How to Help Your Child Develop the Best Habits for Oral Health."
By Adler Family Dental
November 15, 2013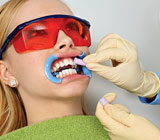 If you're looking to improve the appearance of your smile, tooth whitening treatments — whether done at home or in our office — are a popular option. Here are the answers to some questions that many people ask before they begin the process.
Q: Are commonly used tooth-whitening methods safe?
A: Yes — provided they are used as directed. A large body of research has shown that using the correct concentration of peroxide — the bleach that whitens teeth — for the proper amount of time is not known to cause any major health problems. However, there have been cases where poor-quality bleaching solutions and/or excessive usage have caused deterioration of tooth enamel and extreme gum sensitivity. Always follow our office's recommendation.
Q: Does this mean I have to have in-office treatments to whiten my teeth?
A: No. But you should come in for a thorough dental examination, with x-rays, before you begin whitening treatments. Why? Because if there is trouble with the underlying tooth structure, then whitening the tooth is like painting over rusty metal: It hides the symptom, but doesn't fix the problem. Abscesses and root-canal problems are just two of the underlying causes of tooth discoloration that should be treated before teeth are whitened.
Q: What are some different methods for whitening teeth, and how long do they take?
A: The fastest is in-office whitening treatments, using a strong bleaching solution and appropriate gum protection. Next comes the cost-effective method of at-home bleaching with custom-made flexible plastic trays (sometimes called nightguard vital bleaching.) If you're not in a hurry, over-the-counter (OTC) products can do the same thing — given enough time. One study comparing different whitening treatments found that a six-shade improvement in whitening was accomplished by three in-office treatments. A week was needed for custom-tray bleach applications, or 16 daily applications of OTC products, to achieve comparable results.
Q: Can any tooth be made bright white?
A: No. Every tooth has a maximum level of whiteness, beyond which it can't get any lighter. Furthermore, fillings, crowns and other dental restorations can't be lightened with bleach — another reason to talk to our office; we can help you achieve the best possible look for your particular smile.
Q: How long will my white teeth last?
A: It depends. No whitening method is permanent, but the typical result lasts for up to two years. To preserve that bright smile, you can take some positive steps: Avoid tobacco and beverages that stain, like red wine, tea and coffee; keep up with regular cleanings in our office; and, practice good oral hygiene at home. You can also have a touch-up treatment once or twice a year.
If you need more information about tooth whitening, or you're ready to start the process, please contact us or schedule an appointment for a consultation. You can also learn more about this topic by reading the Dear Doctor magazine article "Important Teeth Whitening Questions Answered."