Drs. Eric and Michael Adler, who are brothers, maintain the highest levels of accreditation and pursue ongoing education to stay abreast of the most current advances in dentistry.
Dentist - Aberdeen
301 Church St.
Aberdeen, NJ 07747
Find us
Find helpful information in our digital library.
Posts for: September, 2013
By Adler Family Dental
September 23, 2013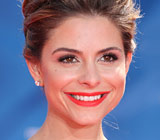 As the youngest person ever to host Entertainment Tonight, Maria Menounos, an independent filmmaker, actress, and co-host of daily entertainment news program Extra, has made a huge splash in the world of entertainment journalism. However, she is also an avid ambassador for the American Diabetes Association, a cause that is very dear to her heart because her father is a diabetic.
Her father's illness taught Menounos and her family about the importance of maintaining good general and dental health. This included a diet packed with fruits and vegetables, many of which they raised themselves. According to Menounos, they also ate little-to-no junk food. These habits still help keep the busy celebrity journalist fit and smiling with beautiful, healthy teeth.
Speaking of her smile, Menounos openly discusses her oral health in her interview with Dear Doctor magazine. She has had no major dental enhancements — not even braces — but does occasionally brighten her smile with tooth whitening. She also feels that her teeth are healthy due to the sealants she had as a child.
We could not agree more with Maria! Sealants for the tiny grooves in teeth known as "pits and fissures" are something that every parent or caregiver should consider for their children. The enamel of newly erupted teeth is more permeable, meaning that the acids produced by bacteria in the mouth can damage these teeth more easily, making them more susceptible and less resistant to decay. The good news is that dental sealants help protect teeth until the enamel has matured. Because of sealants — along with fluoride, good hygiene, and better nutrition (including less sugar consumption), tooth decay has been dramatically reduced.
If you are interested in learning more about dental sealants, contact us today to schedule an appointment so that we can conduct a thorough examination. During this private consultation, we will also discuss any questions you have as well as what treatment options will be best for you or your children. However, to learn more about dental sealants now, you can continue reading the Dear Doctor magazine article "Sealants for Children." And to read the entire interview with Maria Menounos, please see the Dear Doctor magazine article "Maria Menounos."
By Adler Family Dental
September 13, 2013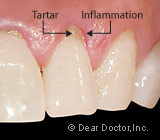 While periodontal disease can take on a variety of forms, most are caused by a thin layer of bacterial plaque called biofilm. This layer of plaque will form every 8-12 hours and sticks like glue to your teeth near the gum line. With time, tartar formation occurs at and below the gum line.
If left unchecked, biofilm can give rise to a very unhealthy progression. It first triggers an infection that leads to painful inflammation, progressive bone loss and the gum tissue losing attachment with a tooth. Void spaces (or pockets) form where the gum and bone tissue once adhered; infectious plaque and tartar moves into these pockets and advances deeper to the root. Overcome by disease, the tooth is in danger of being lost.
It's imperative then to remove as much of this entrenched plaque and tartar as possible. Renewed oral hygiene is not enough — removing plaque and tartar from the root surfaces requires a treatment known as root planing.
Root planing is a meticulous, labor-intensive process. We first clear away larger portions of plaque around the teeth and gums with hand instruments or an ultrasonic device and then flush out the pockets with water. After administering a local anesthetic for pain, we would then turn to a number of small hand instruments known as curettes to probe and scrape away as much remaining plaque below the gum line as we can get to.
Root planing requires experience and a good sense of touch to work in areas that can't be clearly seen. Observing the gum line, though, can give us a good indication of progress as these tissues will actually change color once the biofilm and tartar deposits have been removed.
Being so deeply entrenched, not all the deposits might be removed during one session. However, as plaque and tartar are removed, the gum tissues will begin to heal and become less inflamed. This will make it easier to remove plaque in subsequent sessions.
Root planing takes time, but the effort is well worth it. In the short term you'll notice less inflammation and pain around your teeth and gums. In the long-term, it just may save your teeth.
If you would like more information on root planing and periodontal disease, please contact us or schedule an appointment for a consultation. You can also learn more about this topic by reading the Dear Doctor magazine article "Root Planing."