Drs. Eric and Michael Adler, who are brothers, maintain the highest levels of accreditation and pursue ongoing education to stay abreast of the most current advances in dentistry.
Dentist - Aberdeen
301 Church St.
Aberdeen, NJ 07747
Find us
Find helpful information in our digital library.
Posts for: August, 2013
By Adler Family Dental
August 29, 2013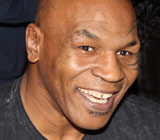 Mike Tyson's gap-toothed smile is part of athlete-turned-celebrity's signature look. During his two-decade career as a professional boxer, the former heavyweight champion has been known for both giving — and occasionally receiving — knockout punches. But the story of how he lost one set of front teeth is a bit more unusual.
In a recent interview with the Las Vegas Review Journal, Tyson's wife Kiki stated that one of the champ's major dental dilemmas didn't come from blows inside the ring. In fact, she said, Tyson lost the teeth after being head-butted by his pet tiger, Kenya.
It's too bad Tyson wasn't wearing a mouthguard before he decided to play with kitty.
Fight fans know that boxers always put in a mouthguard before they enter the ring. But the pugilistic pursuit is just one among the two-dozen-odd sports for which the American Dental Association recommends the use of custom mouthguards. Others include baseball, skateboarding, surfing and bicycling. (Maybe horsing around with tigers should be added to the list!)
Why is it so important for participants in athletic activities to use this piece of protective gear? According to the U.S. Centers for Disease Control, sports-related dental injuries account for over 600,000 emergency-room visits each year. Many of these injuries require further dental treatment; some may lead to tooth loss and require costly replacement. Not wearing a mouthguard makes an athlete 60 times more likely to sustain harm to the teeth, according to the American Dental Association. So there's really no contest.
You can find basic, off-the-shelf mouthguards in limited sizes at many sporting goods stores. But for a reasonable cost, we can provide you with a properly fitted dental appliance that's custom-made just for you. Starting with a precise model of your teeth, individual mouthguards are crafted from impact-resistant materials which are designed to be strong, comfortable, resilient — and effective.
Research shows that custom-made mouthguards offer superior quality and protection. So if you or your loved ones like to get out on the playing field, don't neglect this important piece of sporting equipment. And watch out for the cat.
If you have questions about mouthguards, please contact us or schedule an appointment for a consultation. You can learn more in the Dear Doctor magazine article "Athletic Mouthguards."
By Adler Family Dental
August 14, 2013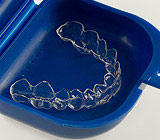 Orthodontic treatment (commonly known as braces) can be a lengthy process to re-align your teeth to a more functional and aesthetic position. Once the orthodontic devices are removed, however, the treatment isn't finished. Wearing a retainer is the final step to ensuring that the re-alignment doesn't eventually fail. It's designed to do just what its name implies — to "retain" the teeth's new position and prevent a relapse to the old.
This can happen because of the way teeth fit into the jaw bone. The teeth are joined to the bone by the periodontal ligament, which works somewhat like a hammock: the ligament's fibers act like threads that fit into the tooth on one side and into the bone on the other, and hold the teeth in place.
As living tissue, the ligament's cell structure is dynamic and can adapt to the gentle pressure applied by an orthodontic device. However, once this pressure subsides after the device is removed "muscle memory" can cause the ligament to resist the new position and pull the teeth back to their original setting. The retainer helps hold the teeth in the new position while the bone and ligament continue to mature and stabilize around the teeth.
There are two basic types of retainers; the one recommended for you will depend on your age and the extent of your orthodontic treatment. One type is a removable device that is typically worn around the clock initially, but may eventually only need to be worn at night or for even a lesser interval of time. The other type is attached permanently behind the teeth and can only be removed by an orthodontist. Permanent retainers have the benefit of not being as visible as the removable type, and there's no bother with putting them in and taking them out.
You may consider wearing a retainer a nuisance especially after months of orthodontic treatment. But consider it the last lap in a long race — only by finishing can you achieve that winning smile.
If you would like more information on the use of a retainer, please contact us or schedule an appointment for a consultation. You can also learn more about this topic by reading the Dear Doctor magazine articles "The Importance of Orthodontic Retainers" and "Why Orthodontic Retainers?"