Drs. Eric and Michael Adler, who are brothers, maintain the highest levels of accreditation and pursue ongoing education to stay abreast of the most current advances in dentistry.
Dentist - Aberdeen
301 Church St.
Aberdeen, NJ 07747
Find us
Find helpful information in our digital library.
Posts for: July, 2013
By Adler Family Dental
July 23, 2013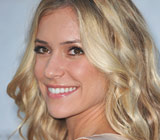 Kristin Cavallari's flawless smile has been featured on TV, film and magazine covers. But the 25-year-old actress and reality-show personality didn't always have a perfect set of teeth. In fact, she told Dear Doctor magazine — where readers recently voted to crown her with the "Smile of the Year" award — that her dental treatments began the same way many do: with orthodontics in sixth grade.
"I had the 'spaghetti catcher,' which is what everyone used to call it," she reminisced. But by that, she didn't mean a strainer — she's talking about what dentists call a "palatal expander."
In case you're not familiar with this orthodontic device, a palatal expander takes advantage of the natural growth patterns of a child's upper jaw to create additional space for the top set of teeth. How does it work? Basically, it's similar to braces: By applying gentle pressure, the appliance creates changes in the jaw. Unlike braces, however, it's invisible — it fits between the upper teeth, close to the roof of the mouth.
During the three to six months a child wears the palatal expander, it pushes the left and right halves of the upper jawbone apart, and then maintains and stabilizes the new, wider spacing. Since the palatal bones don't fuse until after puberty, tightening it a little bit each day for the first few weeks provides a quick and painless method of making the upper jaw a bit roomier. And that can be a very good thing. Why?
There are lots of reasons. For one, it can relieve the condition called "crowding," when there is not enough space in the upper jaw to accommodate the proper alignment of the permanent teeth. In the past, teeth often had to be extracted in that situation. It may even allow "impacted" teeth — ones which are blocked from erupting by other teeth — to come in normally.
It can help treat a "crossbite," when the back top teeth come down to bite inside (instead of outside) the lower back teeth. It also generally shortens the total time a child needs for orthodontic treatment. That's good news for any teenager — even if their own day-to-day "reality show" isn't featured on TV!
If you would like more information about palatal expanders, please contact us or schedule an appointment for a consultation. You can also learn more by reading the Dear Doctor magazine article "Palatal Expanders" and "Early Orthodontic Evaluation."
By Adler Family Dental
July 08, 2013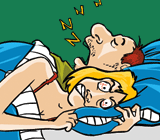 You may get a laugh out of jokes about snoring, but in fact snoring and "Sleep Apnea" ("a" – without; "pnea" – breath) is no laughing matter. Nights of chronically disturbed sleep results in accidents, lost productivity and even depression, as well as problems at work and with relationships. Chronic snoring as a result of sleep apnea, results in sleep deprivation and health problems such as high blood pressure, congestive heart failure, heart attacks, brain damage and strokes.
What causes snoring?
Snoring results when soft tissue structures block the airway (windpipe) in the back of the throat. These structures include tonsils, soft palate, the uvula (the little punch-bag shaped structure at the back of the throat), and fat deposits. As you relax in sleep these tissues collapse onto themselves and the tongue drops back, causing a blockage in the air passage to the lungs. These obstacles to airflow create the familiar sound that we know as snoring.
What is Sleep Apnea?
When the obstruction is severe, it can block airflow completely. Obstructive Sleep Apnea (OSA) occurs when your upper airway is so seriously obstructed that there is significant loss of airflow, or even a complete arrest of breathing for 10 seconds or more. Reduced airflow into the lungs causes low levels of oxygen in the blood reaching the brain. Your brain, saving itself from suffocation, wakes you briefly out of deep sleep, followed by a loud gasp as the flow of air starts again. This can happen more than 50 times an hour. Low oxygen levels and fragmented sleep cause most of the dangers of sleep apnea.
What can be done to combat sleep apnea?
Medical and dental treatment includes:
Staying physically healthy: Being overweight contributes to OSA, so start by losing weight and exercising.
Oral Appliance Therapy: Specially designed (retainer-like) appliances are designed to maintain an open, unobstructed, upper airway during sleep.
Continuous Positive Airway Pressure (CPAP): CPAP bedside machines send pressurized air through a tube connected to a mask (covering the nose and sometimes mouth), keeping your airway open.
How can we help you combat your snoring and sleep apnea?
The first step is assessment and diagnosis. Dentists, specially trained in sleep medicine, are in a unique position to help diagnose and help treat snoring and sleep apnea as part of a medical team. Contact us today to schedule an appointment if you think you have a problem with snoring and OSA — or if your spouse thinks you do. You can learn more by reading the Dear Doctor magazine article "Snoring and Sleep Apnea."