Drs. Eric and Michael Adler, who are brothers, maintain the highest levels of accreditation and pursue ongoing education to stay abreast of the most current advances in dentistry.
Dentist - Aberdeen
301 Church St.
Aberdeen, NJ 07747
Find us
Find helpful information in our digital library.
Posts for: April, 2013
By Adler Family Dental
April 20, 2013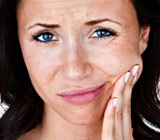 If you have pain in your jaws or related headaches, you may have Temporo-mandibular Joint Disorder, TMD. You are probably wondering what this is — and how it can be treated. If this sounds like something you may have, read on for some answers.
What is TMD? TMD describes a group of disorders or diseases that have the same symptoms, but may have different causes, hence it is known as "The Great Imposter." Pain in and around the temporo-mandibular joint (TMJ), the jaw joint involved in opening and closing your mouth — is characterized by pain and soreness in the region of one or both joints, ears, jaw muscles and even the sinuses.
How does the temporo-mandibular joint work? You can feel your jaw joints working if you place your fingers in front of your ears and move your lower jaw up and down. On each side the joint is composed of an almond shaped structure at the end of the lower jaw, called the condyle, which fits neatly into a depression in the temporal bone (the bone on the side of your skull near your ear). A small disc between the two bones allows the lower jaw to move forward and sideways. The joints are stabilized by ligaments and moved by muscles, like all your joints.
What is the most common cause of TMD? Many people clench or grind their teeth as a reaction to stress. This is generally a subconscious habit, and can even occur during sleep. Continual tooth grinding habits can cause the muscles to go into spasm, which is the most common cause of TMD pain. Structures associated with the jaws — teeth, air sinuses, and even neck and back muscles — share nerves with the muscles in the joints, so the pain may be felt in those structures too, making the exact source of the pain difficult to diagnose. Symptoms of TMD may limit your ability to open your jaw and talk or eat normally.
What is the treatment for TMD? Treatment will depend on the cause, but generally the first step is to relieve pain and discomfort with heat, mild painkillers, muscle relaxants, a soft diet, and simple jaw exercises. A bite guard may be recommended, which should be custom made in our office; a rigid yet unobtrusive plastic appliance that fits over the biting surfaces of your upper teeth. Properly fitted and adjusted, it aids and causes jaw muscle relaxation by preventing clenching and grinding. It is worn during times of stress when oral habits tend to recur, and can also be worn at night.
If you are suffering from TMD — whether the pain is moderate or severe — schedule an appointment with us to have it evaluated and treated. You can learn more about TMD by reading the Dear Doctor magazine article "TMD: Understanding the Great Imposter."
By Adler Family Dental
April 05, 2013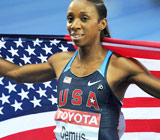 Lashinda Demus holds the U.S record in the 400 meter hurdles, with a time of 52.47 seconds, the third fastest ever recorded. While her twin 5-year-old boys cheered her on, she brought home a silver medal from the 2012 London Olympics. But when it comes to her full set of upper and lower braces, there's no silver to be seen!
Demus is a top-ranked competitor, a wife and a mom — and an adult who is currently in orthodontic treatment. With her orthodontist's approval, she chose clear ceramic braces. These are just one of the treatment options available to adult patients, many of whom prefer a less noticeable style of orthodontic appliance.
As many as three-quarters of adults are thought to have some form of orthodontic problem. Common issues include teeth that are crowded too closely together, or ones that have drifted too far apart after an extraction or other tooth loss. It is believed that straightened teeth are easier to clean and better for chewing — they can also improve an adult's social life, and even his or her career prospects!
Some grown-ups may hesitate to consider orthodontic treatment because they remember the "railroad tracks" they saw in junior high school. In fact, there have been many changes in orthodontic appliances in the past few years. Two popular choices for adults are colorless braces (the kind Demus wears) and clear orthodontic aligners.
Colorless ceramic braces are made of high-tech composite materials. They resist staining, and are less noticeable because their translucent appearance blends with the teeth. Often, a single wire is the only part that's plainly visible. Sometimes it's even possible to place them on the lingual (tongue) side of the teeth.
Clear aligners are an alternative to braces that are available to adults and teens. Instead of wires and attachments, these consist of a series of transparent, removable trays that are placed over the teeth and worn 20 hours per day. Over a period of six months to two years, the teeth are gradually straightened as you progress from one computer-designed tray to the next. Best of all, you can remove the trays completely to clean your teeth, and for important occasions.
Which one is right for you? It depends. While aligners have been successful in treating mild to moderate spacing issues, more difficult problems with the bite may require a more traditional form of braces. Also, there are a few health problems which might need to be attended to before orthodontic treatment is begun. The best way to learn about your options is to come in for a consultation. But remember: if you want a better smile, it's never too late.
If you would like more information about orthodontic choices, please contact us or schedule an appointment for a consultation. You can also learn more by reading the Dear Doctor magazine articles "Orthodontics For The Older Adult" and "Clear Orthodontic Aligners."