Drs. Eric and Michael Adler, who are brothers, maintain the highest levels of accreditation and pursue ongoing education to stay abreast of the most current advances in dentistry.
Dentist - Aberdeen
301 Church St.
Aberdeen, NJ 07747
Find us
Find helpful information in our digital library.
Posts for: February, 2013
By Adler Family Dental
February 26, 2013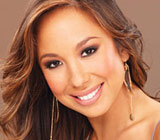 Growing up with a dentist stepdad, Cheryl Burke of Dancing with the Stars heard a lot over the years about the importance of good oral hygiene — in particular, the benefits of using dental floss.
"My dad would say, 'make sure you floss,' but I never really listened to him. I was very, very stubborn," Cheryl told Dear Doctor magazine recently in an exclusive interview. Cheryl admits this stubbornness took its toll, in the form of tooth decay. "I definitely had my share of cavities," Cheryl recalled.
Cavities can form when food particles, particularly sugar and carbohydrates, are not effectively cleaned from the spaces between teeth. These particles are then broken down by bacteria naturally present in the mouth, resulting in the production of acids that attack the tooth enamel.
When she reached her twenties, Cheryl decided she really needed to step up her oral hygiene and cultivate an asset so important to a professional dancer: a beautiful smile. And once she did, cavities became a distant memory.
"I think when you do floss frequently, it helps to reduce the chances of getting cavities," Cheryl said. "It took me a while to figure it out." Now Cheryl flosses after every meal. "I carry floss with me wherever I go. I have no shame busting out my floss in the middle of a restaurant!" She declared.
Dental decay is actually a worldwide epidemic, especially among kids. Untreated, it can lead to pain, tooth loss, and, because it is an infectious disease, it may even have more serious systemic (whole body) health consequences. The good thing is that it is entirely preventable through good oral hygiene at home and regular professional cleanings here at the office.
If it has been a while since you or your children have seen us for a cleaning and check-up, or you just want to learn more about preventing tooth decay, please contact us to schedule an appointment for a consultation. If you would like to read Dear Doctor's entire interview with Cheryl Burke, please see "Cheryl Burke." Dear Doctor also has more on "Tooth Decay: The World's Oldest & Most Widespread Disease."
By Adler Family Dental
February 03, 2013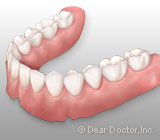 If an adult has lost his or her teeth (a condition called "edentulism"), full removable dentures (false teeth) can restore the person's appearance and ability to bite, chew, and talk properly. Even with our current extensive knowledge about tooth care and restoration, over 25 percent of Americans have lost all their teeth by the time they are 65.
How much do you know about dentures? Test yourself below.
How does tooth loss affect your bones?
Bone is a living substance that is constantly changing and rebuilding itself, depending on signals it receives from surrounding tissues. The bone that surrounds your teeth is called alveolar bone (from "alveolus," meaning sac-like). To keep healthy, alveolar bone needs stimulation or function such as chewing and your teeth touching your opposing teeth. If you lose your teeth, bone begins to melt away (resorb).
How can we minimize bone loss during tooth extraction?
We can maintain bone volume by using bone grafting techniques. While this sounds scary, it is a relatively easy procedure. The principle of bone grafting is to build a sort of scaffolding on which your body begins to build and maintain its own bone. Bone loss can be prevented by the placement of a few dental implants.
How are dentures designed and created?
The dentures that look best and work best for you are based on your original teeth. We often utilize photographs of how you looked with your natural teeth, along with your input about possible changes you would like to see. First we take detailed impressions (molds) of the residual ridges in which your teeth once rested. From these we make denture bases of a light cured plastic resin. We attach horseshoe-shaped rims made of wax to the bases, to simulate the position of the teeth as we work out their design and spacing, based on both appearance and function. The prosthetic teeth are then tried out in your mouth, adjustments are made, and the dentures are processed in a dental laboratory. The final product substitutes a pink colored plastic (methyl methacrylate) to represent the gums and white plastic material as the teeth, created to make them look as natural as possible.
What is your part in the denture fitting process?
As a patient with new dentures, you must learn to use your jaw joints, ligaments, nerves, and muscles in new ways to help stabilize your dentures and to relearn to speak, bite, chew, smile, and laugh with these new structures. It takes a little practice, but with your removable dentures you can once again enjoy a complete and normal life.
Contact us today to schedule an appointment to discuss your questions about full removable dentures. You can also learn more by reading the Dear Doctor magazine article "Removable Full Dentures."