Drs. Eric and Michael Adler, who are brothers, maintain the highest levels of accreditation and pursue ongoing education to stay abreast of the most current advances in dentistry.
Dentist - Aberdeen
301 Church St.
Aberdeen, NJ 07747
Find us
Find helpful information in our digital library.
Posts for: January, 2013
By Adler Family Dental
January 15, 2013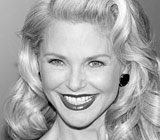 Fracturing back molars is an experience no one ever wants to have. But when a helicopter crashed during a back country ski trip, supermodel Christie Brinkley soon discovered that she had fractured two molars. Fortunately for Christie, her oral health was restored with two dental implants. As she said during an interview with Dear Doctor magazine, "I am grateful for the dental implant technology that feels and looks so natural."
While Christie's dental implants replaced back teeth, we routinely use them to replace both back and the more visible front teeth. But best of all, we have demonstrated expertise at making dental implant crowns look real. This is where we meld science and artistry.
What drives the most natural and beautiful result is how the crown (the visible, white portion of a tooth) actually emerges through the gum tissues. We also match the adjacent teeth identically in color, appearance, shape and profile. But we can't take all the credit, as it takes an entire "behind-the-scenes" team to produce dazzling results. Choice of materials, the laboratory technician (the person who actually handcrafts the tooth), the expertise we use in placing a dental implant crown and the total quality of care we provide are the ingredients necessary for success.
Another critical factor required is ensuring there is enough bone volume and gum tissue to support an implant. Both of these must also be in the right position to anchor an implant. However, if you do not have adequate bone volume, you may be a candidate for a minor surgical procedure to increase your bone volume through bone grafting or other regenerative surgical techniques.
To learn more about dental implants, continue reading the Dear Doctor magazine article "Matching Teeth & Implants." Or you can contact us today to schedule an appointment so that we can conduct a thorough examination, listen to your concerns, answer your questions and discuss treatment options. And if you want to read the entire feature article on Christie Brinkley, continue reading "The Secret Behind Christie Brinkley's Supermodel Smile."
By Adler Family Dental
January 05, 2013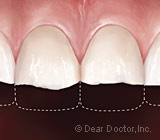 Even with good dental hygiene and care, your teeth may show signs of wear as you age. Fortunately, we now have ways to treat these symptoms of aging and restore a youthful look and function to your teeth and jaws.
How Do Teeth Wear?
All the tissues in your body are constantly in a process of breaking down (catabolism) and rebuilding (anabolism). During childhood the anabolic processes exceed the catabolic processes. But after you have reached physical maturity the balance changes and the breakdown process begins to draw ahead of the building up. The result: signs of wear.
In your teeth, the outer layer, the enamel, is a hard, mineralized substance that is resistant to wear. Under the enamel is a layer called dentin, which is a living tissue something like bone. As teeth age, the dentin layer thickens, causing teeth to lose some of their whiteness. Most wear to your teeth comes from the pressure of the upper and lower teeth's biting surfaces against each other. How much wear occurs depends on your bite or occlusion (how the teeth are aligned, and how they meet) and the ways in which you use your teeth.
Constant interactions between the biting surfaces of your teeth result in removal of small amounts of enamel. Your body naturally compensates for this wearing away of material. As teeth wear, they erupt from your jaws by tiny amounts, moving slightly up or down to stay in the proper occlusal relation with the teeth on the other jaw. They also slowly move toward the front of your mouth.
If the wear becomes excessive, your body can no longer compensate for it. At this point you may find that your bite relationships are not working correctly, and the lower third of your face loses height. This creates or accentuates an older appearance.
Some people clench or grind their teeth, applying greater than normal — and damaging — forces to their teeth. This problem, often a reaction to stress, is called bruxism. It can cause a number of problems from jaw pain to loose teeth or excessive wear or tooth fractures. If you suffer from excessive wear due to bruxism, a professionally made mouthguard may prevent further damage.
Modern Dentistry Can Restore a Youthful Look
Modern dentistry can successfully restore the normal shape, appearance and function of worn teeth by installing porcelain crowns or veneers. These not only replace the tooth structure lost through wear, but they also restore the bite relationship. Crowns on excessively worn teeth can dramatically improve tooth color and facial appearance, resulting in a more harmonious, younger look.
Contact us today to schedule an appointment to discuss your questions about dental wear and aging. You can also learn more by reading the Dear Doctor magazine article "How and Why Teeth Wear."